European topic centre - university of malaga
Meet our team members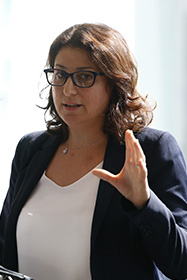 Dania Abdul Malak
ETC-UMA DIRECTOR
Dania Abdul Malak
ETC-UMA DIRECTOR
---
---
---
Dania Abdul Malak is a senior environmental researcher and Director of the European Topic Centre at the University of Malaga (ETC-UMA). She has over 15 years' experience in environmental assessment and management. Her research focuses on setting transferable guidelines to apply ecosystem-based management to nature conservation and biodiversity protection at regional scales, including the Mediterranean and Europe. Her work supports the evidence behind the implementation of different Global, European and Mediterranean Directives such as the EU MSFD, the EU MSP, the EU Habitat Directive, the EU Biodiversity Strategy to 2020, the Barcelona Convention for the Protection of the Coastal and Marine Environment in the Mediterranean, as well as the Ramsar and the Carpathian Conventions.
Dania supports the European Environment Agency (EEA) by developing integrated ecosystem assessment frameworks to evaluate the functional capacity of ecosystems to provide ecosystem services. Furthermore, she coordinates several regional initiatives and participates in numerous international research projects related to her field of expertise. More recently, Dania is supporting the United Nations Economic and Social Commission for Western Asia (UNESCWA) in implementing sustainable Development Strategies in Western Asian countries.
She has written several scientific papers and has co-authored many international and regional technical reports and books, namely Adapting to Climate Change- an assessment of Vulnerability and risks to Human Security in the Western Mediterranean basin (Abdul Malak et al., 2017); the European forest ecosystems report (EEA, 2016); European ecosystem assessment – concept, data, and implementation (EEA, 2015), Monitoring Post-fire EVI regeneration in the Eastern Iberian Peninsula using GIS and Remote Sensing in International Journal of Applied Geospatial Research (2016) among others. More on publications are available in the ETC-UMA´s publication section.
Books
Journal Articles
Proceedings
Technical Reports
Presentations
Masters Theses