European topic centre - university of malaga
Meet our team members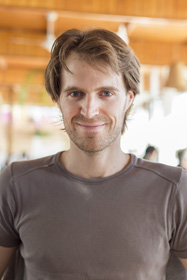 Antonio Sánchez
Environmental scientist, GIS and Remote Sensing specialist
Antonio Sánchez
Environmental scientist, GIS and Remote Sensing specialist
---
---
---
Antonio Sánchez has developed his career focused on Geographic Information Systems and Remote Sensing tools, especially in the management and processing of data to calculate indicators and generate illustrative maps of environmental problems of all kind. His main area of work has been marine data in Med-IAMER (MED Programme), ESAtDOR and INTERPLACE (ESPON) projects, where he has produced the analysis of environmental pressures and sea-coast interactions in different sectors such as transport, fishing, tourism, energy, etc., as well as the study of environmental data such as populations of marine species and protected areas. In land topics, he has work producing many analyses for the European Environment Agency (EEA) on different topics such as forests, wetlands and water bodies using EEA and Copernicus datasets: CLC, High Resolution layers, LUCAS database, etc. In the field of remote sensing, he has developed different products related to wetland ecosystems in the framework of SWOS project (Horizon 2020) and the RhoMeo Programme using Landsat and Sentinel images, such as land use/land cover maps, surface water dynamics, flood regulation and land use/land cover change indicators. He has also participated as a trainer in remote sensing for different wetland user organizations.
Antonio also works as freelance photographer, graphic and web designer for different companies and public institutions. The experience in this field is put into practice in the University of Malaga, giving greater versatility to the team when it comes to producing dissemination material for both experts and the general public, as well as in the development and maintenance of web pages.
Journal Articles

Potential contribution of OECMs to international area-based conservation targets in a biodiversity rich country, Spain Journal Article

Journal for Nature Conservation, 62 , 2021.

Land use and land cover mapping in wetlands one step closer to the ground: Sentinel-2 versus Landsat 8 Journal Article

Journal of Environmental Management, 247 , pp. 484-498, 2019.

Wetland extent tools for SDG 6.6.1 reporting from the Satellite-based Wetland Observation Service (SWOS) Journal Article

Remote Sensing of Environment, 247 , 2019.

Achieving Blue Growth through maritime spatial planning: Offshore wind energy optimization and biodiversity conservation in Spain Journal Article

Marine Policy, 73 , pp. 8-14, 2016.

Cumulative pressures and low protection: a concerning blend for Mediterranean MPAs Journal Article

Marine Pollution Bulletin, 101 , pp. 288-295, 2015.

Development of an Indicator to Monitor Mediterranean Wetlands Journal Article

Plos One, 10 (3), 2015.

Proceedings

Utility assessment in using optical and radar data to monitor surface water dynamic in wetland ecosystems, Fuente de Piedra, Spain (UMA) Proceeding

Simposio del Agua en Andalucía (SIAGA), Huelva, 24 a 27 de octubre, 2018.

Technical Reports

SoED 2020 : State of Environment and Development in Mediterranean Technical Report

2020.

Mediterranean biodiversity and marine litter: an interaction knowledge base Technical Report

2020.

Enhanced wetland monitoring, assessment and indicators to support European and global environmental policy Technical Report

2019.

Towards 2020: how Mediterranean countries are performing to protect their sea Technical Report

2019.

Presentations

Mapping flood regulation capacity of coastal wetland ecosystems in the Mediterranean: Guadalhorce river mouth (Spain) Presentation

01.04.2016.

Determination of wetland ecosystem boundaries and validation of habitat classifications using remote sensing: Fuente de Piedra (Spain). Presentation

01.01.2016.

Póster proyecto SWOS. Simposio del Agua de Andalucía 2015 (SIAGA) Presentation

01.11.2015.

Desarrollo de un indicador para el seguimiento de los niveles de inundación en humedales Mediterráneos. XVI Congreso de la Asociación Española de Teledetección (AET) Presentation

01.10.2015.

Development of an Indicator to Monitor Mediterranean Wetlands Presentation

01.01.2015.