European topic centre - university of malaga
Meet our team members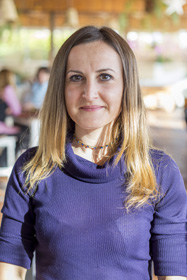 Matilda Merkohasanaj
Environmental scientist, GIS and Remote Sensing support
Matilda Merkohasanaj
Environmental scientist, GIS and Remote Sensing support
---
---
---
Matilda is an Environmental Scientist, graduated by the Polytechnic University of Tirana (UPT), Albania. She holds a Master degree in "Water Treatment and Management" (UPT) and an International Scientific Master degree on "Integrated Planning and Environmental Management" by the International Center for Advanced Mediterranean Agronomic Studies (CIHEAM).
She developed her master thesis research within the SWOS project on Integrated Tools and Indicators for Integrated Wetland Monitoring. Recently, as a visitor researcher in the ETC-UMA she is supporting the Marine Reserve tasks of the SOSTPARK project, focused mainly in the analysis of the integrated sustainability of Spanish protected areas.
Her areas of interest are Remote Sensing and Spatial Information Analysis, land use land cover changes, biodiversity and water resources monitoring and conservation in specific vulnerable areas such are wetlands and protected areas ecosystems.