European topic centre - university of malaga
Meet our team members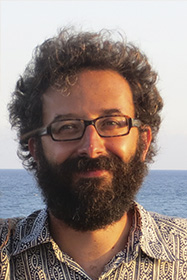 Marco Trombetti
Environmental scientist and GIS specialist
Marco Trombetti
Environmental scientist and GIS specialist
---
---
---
Marco graduated in Forestry and Environmental Science in Bari (ITA), holds a MSc in Geoinformation Science from Wageningen University (NL) and a PhD in Environmental Engineering from the University of Basilicata (ITA). His main interests are in the development of spatially explicit models for environmental monitoring of terrestrial ecosystems.
He has wide experience in remote sensing applications (monitoring of forest fires and vegetation water content, burnt area assessment), GIS modelling (atmospheric emissions inventories, impact of pesticide usage on the activity of pollinating bees, multimedia transport and fate of contaminants) and ecological assessments (multi-temporal trends of vegetation indicators, invasive and alien species in the EU).
After work experiences in Italy, the US and Spain, he joined the ETC/UMA in 2018, where he's involved in EEA tasks related to land cover monitoring, soil and vegetation trends and indicators assessment.