European topic centre - university of malaga
Meet our team members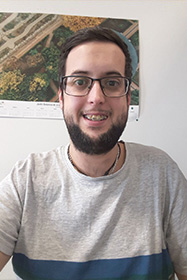 Manuel Sánchez
GIS and IT support
Manuel Sánchez
GIS and IT support
---
---
---
In summer 2010 Manuel finished a Formative Cycle in Computer Systems Management (Málaga). I started studying the degree of Geography and Territory Managementin the University of Málaga (UMA). In 2013, I studied at Lisbon University with an Erasmus scholarship and, at last, I finished the degree in 2014.
I have always been  interested in mobility and cycling. Besides, during my university studies, I met an association (Ruedas Redondas),where I wrote several papers about urban mobility in Málaga, the last one for the Association of Geographers of Andalucia.
From june 2017, I work in the European Topic Centre for Spatial Information and Informatic. My role is mainly based on mapping and creating servers, but I also support my coworkers in whatever they need.