The European Topic Centre of the University of Malaga (ETC-UMA) is collaborating with the Spanish Red Cross and the Centre for the Cooperation in the Mediterranean (CCM) for the celebration of the Youth Camp ATLANTIS XIV edition on "Fostering sustainable environments". Organized in Malaga from the 8th to the 15th July 2018 in the innovative Centre 'La Noria', the meeting will foster intercultural exchanges among approximately 60 volunteers from 19 different countries.
The ATLANTIS youth camp is celebrated annually in a Mediterranean country and the main topics in the fourteenth edition will be environmental preservation, climate change and sustainable development. This will be addressed from the UN Sustainable Development Goals (SDG) perspective. Furthermore, the camp will help participants develop organization, teamwork, leadership and problem solving skills in a multicultural environment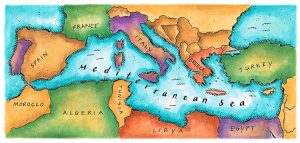 The session coordinated by ETC-UMA will focus on Climate change and population movements. Debates, videos and interactive exercises will be in the programme to raise awareness on the complexity of reasons that may trigger population movements in the Mediterranean, beyond conflicts and poverty, into the importance of preserving our natural resources against threats such as increasing extreme weather conditions and climate change.
During the camp interactive sessions, lectures and workshops will be developed by groups of experts among which the Regional Activity Centre for Sustainable Consumption and Production (SCP/RAC) and ETC-UMA to look at potential solutions based on sustainable development.
The ETC-UMA will take advantage of its experience in projects such as PANACeA for Biodiversity Protection, from the Interreg – Med Programme. This project addresses major environmental threats and challenges for the Mediterranean and seeks solutions to be implemented in collaboration with all sorts of stakeholders, from NGOs to economic actors and public authorities, to ensure a more effective protection and management of Mediterranean natural resources and livelihoods.