[et_pb_section bb_built="1″ admin_label="section" custom_padding="0px|0px|0px|0px" _builder_version="3.0.51″][et_pb_row admin_label="row" custom_padding="60px|0px|60px|0px" _builder_version="3.0.51″ background_position_1="top_left" background_repeat_1="no-repeat"][et_pb_column type="4_4″][et_pb_text admin_label="Texto" _builder_version="3.0.51″ background_layout="light" text_orientation="left" border_style="solid"]
North Sea Star
[/et_pb_text][et_pb_text admin_label="Texto" _builder_version="3.0.51″ background_layout="light" text_orientation="left" border_style="solid"]
The North Sea Star ESPON project kicked off at the beginning of 2013 and aims at:
Providing a deeper understanding of the most likely future energy scenarios for the North Sea Region.
Evaluating the effectiveness of regional energy policies and the relevance of transnational clustering as a tool for delivering regional development in this respect.
Assessing the role of cooperation projects in this process, and ascertain the added value of a project clustering approach.
Providing recommendations on accelerating the take-up of renewable energy technologies and supporting relevant green economic activities in the North Sea Region.
ETC-UMA´s main task is the update and the mapping of the current energy situation in the North Sea region including land and sea in terms of both demand and supply of energy. To achieve this purpose, ETC-UMA has developed a baseline mapping exercise providing an insight on the current situation in terms of energy demand and supply.
In the coming period, ETC-UMA´s efforts will focus on providing a gap analysis and a set of indicators within which the future scenarios and policy recommendations can be framed.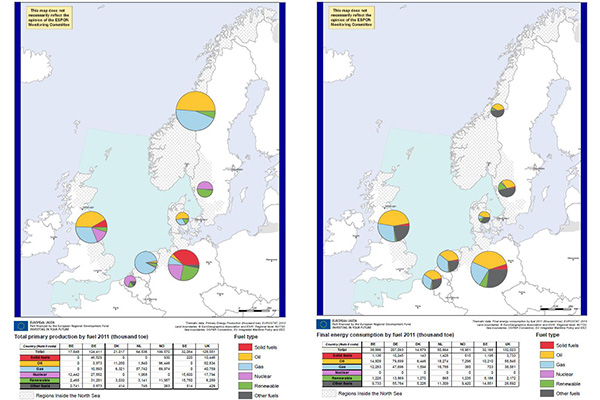 [/et_pb_text][/et_pb_column][/et_pb_row][/et_pb_section][et_pb_section bb_built="1″ admin_label="section" _builder_version="3.0.47″ custom_padding="0px|0px|0px|0px"][et_pb_row admin_label="Fila" background_position="top_left" background_repeat="repeat" background_size="initial"][et_pb_column type="4_4″][et_pb_posts_carousel admin_label="Posts Carousel EXTRA" _builder_version="3.0.51″ category_id="6″ display_featured_posts_only="off" ignore_displayed_posts="off" show_date="on" heading_style="custom" border_style="solid" remove_drop_shadow="off" posts_per_page="8″ heading_primary="Latest News" /][/et_pb_column][/et_pb_row][/et_pb_section]