[et_pb_section bb_built="1″ admin_label="section" custom_padding="0px|0px|0px|0px" _builder_version="3.0.51″][et_pb_row admin_label="row" custom_padding="60px|0px|60px|0px" _builder_version="3.0.51″ background_position_1="top_left" background_repeat_1="no-repeat"][et_pb_column type="4_4″][et_pb_text admin_label="Texto" _builder_version="3.0.51″ background_layout="light" text_orientation="left" border_style="solid"]
Copernicus
The European Earth Observation Programme
[/et_pb_text][et_pb_text admin_label="Texto" _builder_version="3.0.51″ background_layout="light" text_orientation="left" border_style="solid"]
The European Earth observation programme Copernicus, previously known as GMES (Global Monitoring for Environment and Security) is a European initiative born in 1998. The final objective is the development and implementation of services to provide and update the information regarding environment and security.
The development of the Copernicus services will provide more efficient information regarding the management of the infrastructures and natural and human resources. Modelling the world will be the most important tool for analysing the security and the risk of people and environment. Moreover, it will make easier the decision making by the stakeholders (Public or private organizations) regarding the activities of protecting wild life (loose of biodiversity) and human security (flooding, earthquakes, pollution of air and water, etc). Besides, the services the new generations of satellites, Sentinels, will play a crucial role in the medium – long term future.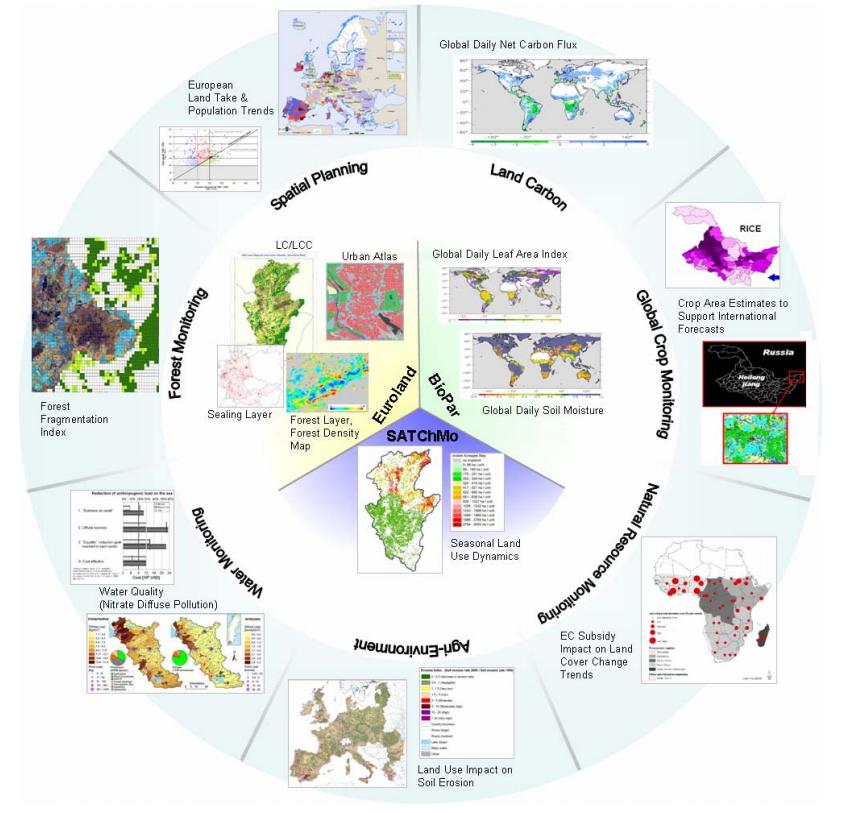 The following domains are addressed: Land Monitoring Services, Marine Monitoring Services, Support to Emergencies and Humanitarian Aid, Atmospheric Monitoring Services, Support to security-related activities, Climate Change services.
The ETC/UMA is involved as user and partner in the several projects under 7th Framework Projectfunded by European Commission like geoland2 and MS.MONINA. ETC/UMA experts were also involved in previous GMES projects like GSE Land, GNU and Geoland.
Geoland2 as the most relevant Land Environmental Service, geoland2 provides cross-border harmonised geo-information at global to local scales. The services developed by the project build on two layers: mapping services, and information services.
The role of the ETC/UMA is to create a direct link between all the stakeholders involved, from local users to European and global organizations. The development of this GMES User Platform is one of the key issues of the project: 1) Collection of the user requirements, 2) Preparation and distribution of the utility assessment,  3) To organise the user, 4) Develop the GMES Land User Newsletter.
[/et_pb_text][/et_pb_column][/et_pb_row][/et_pb_section][et_pb_section bb_built="1″ admin_label="section" _builder_version="3.0.47″ custom_padding="0px|0px|0px|0px"][et_pb_row admin_label="Fila" background_position="top_left" background_repeat="repeat" background_size="initial"][et_pb_column type="4_4″][et_pb_posts_carousel admin_label="Posts Carousel EXTRA" _builder_version="3.0.51″ category_id="6″ display_featured_posts_only="off" ignore_displayed_posts="off" show_date="on" heading_style="custom" border_style="solid" remove_drop_shadow="off" posts_per_page="8″ heading_primary="Latest News" /][/et_pb_column][/et_pb_row][/et_pb_section]