European topic centre - university of malaga
Meet our team members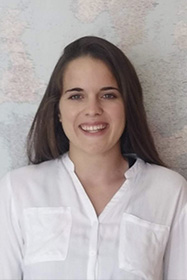 Yaiza Jiménez
Data management, GIS and Remote Sensing specialist
Yaiza Jiménez
Data management, GIS and Remote Sensing specialist
---
---
---
Yaiza has a degree in Geography and territorial management by the University of Málaga, Spain. She has a wide postgraduate training in GIS, specialised in remote sensing, photogrammetry of satellite and drone images and their application to field work, and she is also a drone pilot.
The experience acquired as GIS technician in different Copernicus projects and in LUCAS (Land use Land Cover assessment Survey), treating high resolution satellite images and SAR has provided her with a better understanding of the different land uses, from a local to a pan-European scale, taking into consideration the current climate crisis and the human-environment interactions.
Yaiza has joined the ETC-UMA in March 2021 to support geospatial data and metadata handling and processing for different pan-European projects.